0

Seeders

0

Leechers

74.53 MB

Size
Edit this file
Files
World of Goo v1.30 torrent (size: 74.527 MB)
1 - Pour avoir une installation en français par défaut

Patch Français.reg

file
228.00 Bytes
.reg

2 - Pour avoir le jeu en français après installation

Copiez le fichier ici.lnk

file
536.00 Bytes
.lnk

config.txt

text
365.00 Bytes
.txt

3 - Modification de la résolution

Lien direct vers le fichier.lnk

file
1.44 KB
.lnk

Lisez-moi.txt

text
207.00 Bytes
.txt

4 - Correction du bug pour les écrans larges

Load all the files...

Load all the files...
***ATTENTION*** Afin de télécharger ce torrent, vous devez posséder un compte sur www.torrent411.com et ensuite entrez votre passkey manuellement (http://tracker.torrent411.com:56969/votrepasskeyici/announce) ou re-télécharger le torrent directement sur le site. Merci!
(¯`·._.·[ World of Goo ]·._.·'¯)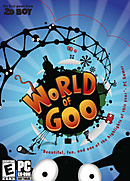 Editeur :2D Boy
Développeur : 2D Boy
Type :Puzzle-Game / Réflexion
Note du test :18/20
Date :20 février 2009 (13 octobre 2008 aux Etats-Unis)
Configuration :
* Windows XP / Vista
* Processeur 1.0 GHz
* 512 Mo de RAM
* Carte graphique 3D (DirectX 9.0c)
* Espace disque disponible de 70 Mo
Le marché du jeu PC est en train de se diviser en deux secteurs. D'un côté, les superproductions, toujours plus coûteuses en main-d'oeuvre et en ressources, imposées en tête de gondole par le rouleau compresseur marketing. De l'autre, les jeux indépendants, réalisés par une poignée de passionnés sans argent, mais avec beaucoup d'amour, un peu comme mémé avec les confitures. Parmi ces titres, on (...)








Format :Executable
Plateforme :PC
Langue :Français
Découper avec : Aucun
Information sur la version 1.30 :
* Fixed some players running the game with a non-admin login did not have their progress saved
* Progress now saves properly on Czech and Swedish Windows versions
* Fixed some users got a black screen on launch with sound but no video
* Players can now get the OCD flag in MOM even after they've talked to her
* Widescreen fix :the "continue pull-lever" doesn't fall off the screen when you finish a level *
* You can now configure the refresh rate *
* Updated Language files
Installation :
* Si vous avez un Windows anglais (ou autre), utilisez le patch n°1
* Installez le jeu avec le fichier SETUP.exe
* Si malgré tout, le jeu est en anglais, utilisez le patch n°2
* Si vous voulez utiliser une résolution plus élevé, utilisez le patch n°3
* Si vous avez défini une résolution de type 16/9 ou 16/10 et que vous avez des problèmes avec la chasse d'eau alors, utilisez le patch n°4
* Pour avoir la dernière traduction en date:
Rendez-vous sur cette page
Cochez French (ou Select All) et appuyez sur Download.
Savegardez le fichier dans le répertoire du jeu à la place de l'ancien:
C|Program Files|WorldOfGoo|properties
Note :
* Si vous avez déjà installé le jeu à partir de la version SR-WOGOO.bin/.cue alors, utilisez le patch v1.30